Overall Course Structure
Our Intermediate Conversational Chinese course is designed for students that already have a basic foundation in Mandarin Chinese and are looking to learn more advanced Chinese grammar, vocabulary and phrases, as well as have more involved conversations with native Chinese speakers! If you have already finished our Beginner Conversational Chinese course, then your next step within the conversational Chinese track is the Intermediate course. The Intermediate course consists of 6 levels, with a total of 199 lessons across 60 units, and can be finished in as little as 6 months!
In each level, you'll revisit and reinforce some language that you learned in Beginner, while expanding upon those basic concepts, so you can express yourself in a variety of ways and have conversations in many different situations. After taking this course, you'll be able to:
Discuss topics like your career, family, health, and relationships
Express more complex opinions and personal preferences
Describe the world (and people) around you in detail
Navigate nuanced social and cultural scenarios
… and more! The lesson videos in the Intermediate course are focused on breaking down more in depth conversations with native speakers (like the Chinese on the Street videos in Beginner), so you can master the more advanced vocabulary, phrases, and grammar used. We also supplement the course with grammar videos that teach complex but common grammatical structures key to the course.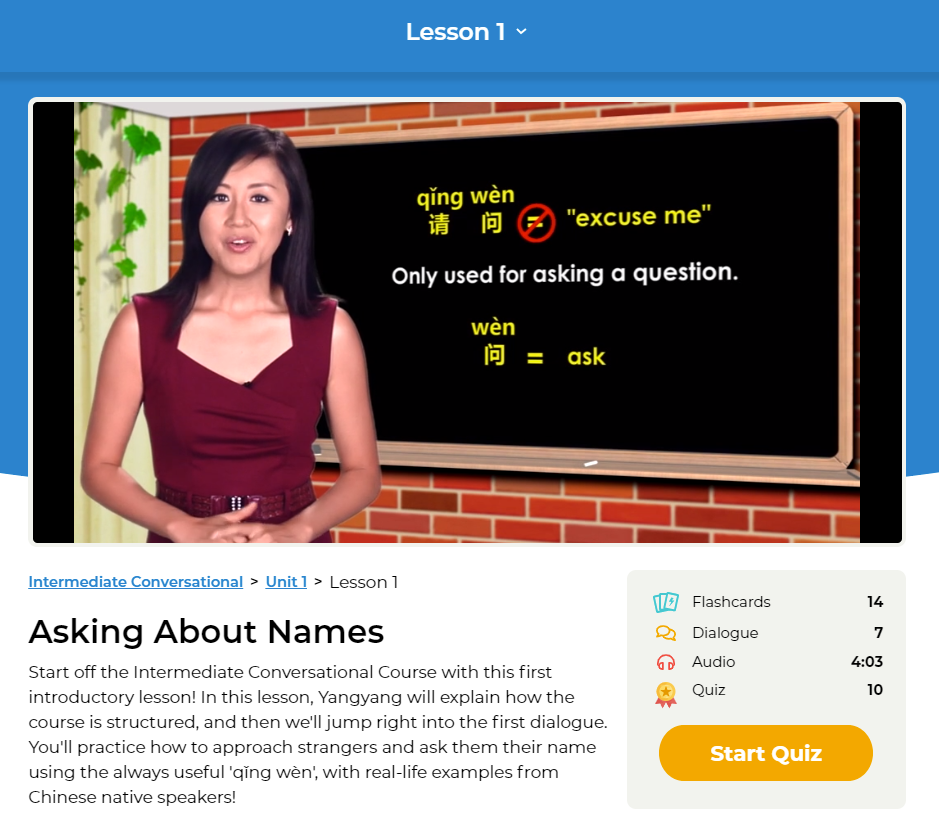 What's more, with the course focusing on real Chinese conversations between natives, your listening skills will skyrocket as you make your way through the course. You'll hear from native speakers that speak very quickly, mumble, slur, use language shortcuts, and have a variety of regional accents.
By the end of this course, you will have a solid foundation in more complex conversations in Chinese, and will be able to speak with native speakers on a variety of topics and in many different contexts with ease! In addition, after completing the course, you should be around an HSK Level 3-4.
Learning Materials Included in the Course
The Intermediate Conversational Chinese course includes a variety of study tools, including:
Lesson Videos teaching key language concepts
Lecture Notes PDFs for every lesson detailing the lesson content
Audio Review MP3s in line with the Lecture Notes, to quiz yourself, practice speaking, and improve your listening skills as well
Interactive Language Flashcards with normal and slow speed audio, to master what was covered in the lesson
Interactive Dialogue Replay Flashcards with normal and slow speed audio for Chinese on the Street lessons, to master the sentences covered and further train your ear to the audio from native speakers
Interactive 10-Question Quizzes with diverse question types, to thoroughly test your retention of what was covered in each lesson
Study Schedule PDF to give you more structure when self-studying
Course Vocabulary Glossary PDF with the Chinese characters, pinyin and English for the key words and phrases covered throughout the course
Lesson-based tools resources be found on the individual lesson pages, and any downloadable resources can be found on our Download Center.
Sample Lessons
Wondering what the lessons are like? Get started with the first lesson here.
As always, if you have any additional questions about the course, feel free to message us using the chat widget and we'd be happy to answer any questions you may have!